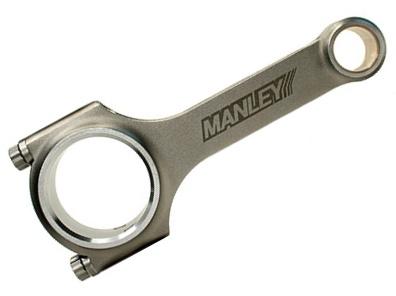 93-98 Toyota Supra (N/A & Turbo)
Manley 93-98 Toyota Supra 3.0 2JZGTE/GE Tuff Pro Series I Beam Connecting Rod Set
Part Number: man14402-6
Description: I Beam Rods; Set of 6
Center-to-Center: 5.590"
Pin Bore: .8671"
Pin Diameter: .866" (22mm )
Big End Width: 1.015"
Big End Bore: 2.167"
Weight: 705g
Notes: Fits 93-98 Toyota Supra both N/A and Turbo
Details:
Manley Performance manufactures the finest steel connecting rods in the Sport Compact industry. Our Pro Series "I" Beam is forged from 4340 aircraft quality vacuum degassed material. We utilize our proven "Turbo Tuff" design and add 3/8" ARP 2000 cap screws. All rods are properly shot peened after machining and 100% magnafluxed.
*"I" Beam - Turbo Tuff* Manley Pro Series Turbo Tuff connecting rods are used by the best tuners in and outside of the United States in some of the fastest, high horsepower, heart stopping engines being produced.
All Manley connecting rod sets, are weight matched to ± 1.5 grams, big and small end bores are final honed to a tolerance of ± .0002", critical bend and twist attributes are held to a minimum, and exacting attention is paid to every detail by our final inspection department; thus rendering a finished product that is second to none.